Every time you visit our website, our system automatically records data and information from the operating system of your computer. This data (browser + version, operating system, IP address and date + time) is stored in log files and deleted usually after 24 hours at the latest. Cookies are not used.
The following describes your rights as a user of our site.

Important terms used in this privacy policy:

'personal data' means any information relating to an identified or identifiable natural person ('data subject'); an identifiable natural person is one who can be identified, directly or indirectly, in particular by reference to an identifier such as a name, an identification number, location data, an online identifier or to one or more factors specific to the physical, physiological, genetic, mental, economic, cultural or social identity of that natural person;

'processing' means any operation or set of operations which is performed on personal data or on sets of personal data, whether or not by automated means, such as collection, recording, organisation, structuring, storage, adaptation or alteration, retrieval, consultation, use, disclosure by transmission, dissemination or otherwise making available, alignment or combination, restriction, erasure or destruction;

'controller' means the natural or legal person, public authority, agency or other body which, alone or jointly with others, determines the purposes and means of the processing of personal data; where the purposes and means of such processing are determined by Union or Member State law, the controller or the specific criteria for its nomination may be provided for by Union or Member State law;


I. Name and address of the controller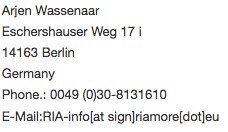 Website: www.riamore.eu


II. General information on data processing
1. Scope of processing of personal data
We process personal data of our users only, as far as this is necessary to provide a functioning website as well as is required for our content and services.
The processing of personal data of our users takes place regularly only with the consent of the user. An exception applies to those cases in which a prior consent can not be obtained for factual reasons and the processing of the data is permitted by legal regulations.

The data processing takes place exclusively in the European Union.



2. Legal basis for the processing of personal data

Insofar as we obtain the consent of the data subject for the processing of personal data, Article 6(1)(a) EU General Data Protection Regulation (GDPR) serves as the legal basis.

In the processing of personal data necessary for the performance of a contract to which the data subject is a party, Article 6(1)(b) GDPR serves as the legal basis. This also applies to processing operations equired to carry out pre-contractual actions.

Insofar as the processing of personal data is required to fulfil a legal obligation to which our company is subject, Article 6(1)(c) GDPR serves as the legal basis.

In the case that vital interests of the data subject or another natural person require the processing of personal data, Article 6(1)(d) GDPR serves as the legal basis.

If processing is necessary to safeguard a legitimate interest of our company or a third party and if the interests, fundamental rights, and freedoms of the data subject do not outweigh the first-mentioned interest, Article 6(1)(f) GDPR serves as the legal basis for processing.



3. Data deletion and storage duration

The personal data of the data subject will be deleted or blocked as soon as the purpose of storage of such data no longer applies. Data may also be stored if such storage is provided for by European or national legislation in European Union laws, regulations or other legal provisions to which our company is subject. The data will also be deleted or blocked when a storage period specified in the mentioned laws and regulations expires, except where further storage of the data is necessary for the conclusion of a contract or for fulfilling a contractual obligation.



III. Provision of the website and creation of log files

1. Description and scope of data processing

Every time you visit our website, our system automatically collects data and information from the computer system of the calling computer.
The following data is collected:
user's IP-Address(*),
data and time of access,
name of the retrieved file,
the HTTP response code,
transferred amount of data,
websites from which your system reaches our website (referrer URL),
user's operating system,
browser information (type and version).
(*) To detect attacks, our hosting provider stores non-anonymized IP addresses for a maximum of seven days. They are then irrevocably anonymized.

The data is also stored in the log files of our system. A storage of this data together with other personal data of the user does not take place.
For data protection reasons, the logfiles only contain anonymized IP addresses.



2. Legal basis for data processing

The legal basis for the temporary storage of data and log files is Article 6(1)(f) GDPR.



3. Purpose of data processing

The temporary storage of the IP address by the system is necessary to display the website on the user's computer. To do this, it is necessary to store the user's IP address for the duration of the session.

Storage in log files is done to ensure the functionality of the website. In addition, the data is used to optimize the website and to ensure the security of our information technology systems. Our legitimate interest in data processing pursuant to Article 6(1)(f) GDPR also lies in these purposes.



4. Duration of storage

The data in log files is deleted after six weeks.



5. Possibility of objection and data elimination

The collection of data for the provision of the website and the storage of the data in logfiles is mandatory for the operation of the website. Consequently, there is no possibility of objection on the part of the user.



IV. Use of cookies

Our website does not use cookies. Cookies are text files that are stored in the Internet browser or the Internet browser on the user's computer system. When a user visits a website, a cookie may be stored on the user's operating system. This cookie contains a characteristic string that allows the browser to be uniquely identified when the website is reopened.



V. Rights of the data subject

If we processes your personal data, you are a data subject within the meaning of Article 4(1) of the GDPR, which gives you the following rights vis-à-vis the controller:

Rights to information (Article 15 GDPR),
Rights to correction (Article 16 GDPR),
Rights to cancellation (Article 17 GDPR),
Rights to limitation of processing (Article 18 GDPR),
Right to lodge a complaint with a supervisory authority (Article 77 GDPR).
VI. Updating and changing this privacy policy
This privacy statement is currently valid as of 25. Mai 2018. As our site evolves and offers become available, or as a result of changes in government or regulatory requirements, it may be necessary to change this privacy policy. The current privacy policy can be accessed and printed on the website at any time.


Datenschutzerklärung
Jedes Mal wenn Sie unsere Website besuchen, erfasst unser System automatisiert Daten und Informationen vom Computersystem Ihres Rechners. Diese Daten (Browsertyp+Version, Betriebsystem, IP-Adresse und Datum+Uhrzeit) werden in Logfiles gespeichert und normalerweise nach spätestens 24 Stunden gelöscht. Cookies werden nicht verwendet.
Im Folgenden beschreiben wir Ihre Rechte als Nutzer unserer Website.
Wichtige Begriffe die in dieser Datenschutzerklärung verwendet werden:
"personenbezogene Daten" alle Informationen, die sich auf eine identifizierte oder identifizierbare natürliche Person (im Folgenden "betroffene Person") beziehen; als identifizierbar wird eine natürliche Person angesehen, die direkt oder indirekt, insbesondere mittels Zuordnung zu einer Kennung wie einem Namen, zu einer Kennnummer, zu Standortdaten, zu einer Online-Kennung oder zu einem oder mehreren besonderen Merkmalen identifiziert werden kann, die Ausdruck der physischen, physiologischen, genetischen, psychischen, wirtschaftlichen, kulturellen oder sozialen Identität dieser natürlichen Person sind;

"Verarbeitung" jeden mit oder ohne Hilfe automatisierter Verfahren ausgeführten Vorgang oder jede solche Vorgangsreihe im Zusammenhang mit personenbezogenen Daten wie das Erheben, das Erfassen, die Organisation, das Ordnen, die Speicherung, die Anpassung oder Veränderung, das Auslesen, das Abfragen, die Verwendung, die Offenlegung durch Übermittlung, Verbreitung oder eine andere Form der Bereitstellung, den Abgleich oder die Verknüpfung, die Einschränkung, das Löschen oder die Vernichtung;

"Verantwortlicher" die natürliche oder juristische Person, Behörde, Einrichtung oder andere Stelle, die allein oder gemeinsam mit anderen über die Zwecke und Mittel der Verarbeitung von personenbezogenen Daten entscheidet; sind die Zwecke und Mittel dieser Verarbeitung durch das Unionsrecht oder das Recht der Mitgliedstaaten vorgegeben, so können der Verantwortliche beziehungsweise die bestimmten Kriterien seiner Benennung nach dem Unionsrecht oder dem Recht der Mitgliedstaaten vorgesehen werden;


I. Name und Anschrift des Verantwortlichen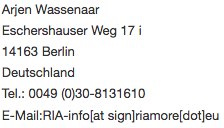 Website: www.riamore.eu



II. Allgemeines zur Datenverarbeitung

1. Umfang der Verarbeitung personenbezogener Daten

Wir verarbeiten personenbezogene Daten unserer Nutzer grundsätzlich nur, soweit dies zur Bereitstellung einer funktionsfähigen Website sowie unserer Inhalte und Leistungen erforderlich ist.
Die Verarbeitung personenbezogener Daten unserer Nutzer erfolgt regelmäßig nur nach Einwilligung des Nutzers. Eine Ausnahme gilt in solchen Fällen, in denen eine vorherige Einholung einer Einwilligung aus tatsächlichen Gründen nicht möglich ist und die Verarbeitung der Daten durch gesetzliche Vorschriften gestattet ist.

Die Verarbeitung findet ausschließlich in der Europäischen Union statt.



2. Rechtsgrundlage für die Verarbeitung personenbezogener Daten

Soweit wir für Verarbeitungsvorgänge personenbezogener Daten eine Einwilligung der betroffenen Person einholen, dient Art. 6 Abs. 1 lit. a EU-Datenschutzgrundverordnung (DSGVO) als Rechtsgrundlage.

Bei der Verarbeitung von personenbezogenen Daten, die zur Erfüllung eines Vertrages, dessen Vertragspartei die betroffene Person ist, erforderlich ist, dient Art. 6 Abs. 1 lit. b DSGVO als Rechtsgrundlage. Dies gilt auch für Verarbeitungsvorgänge, die zur Durchführung vorvertraglicher Maßnahmen erforderlich sind.

Soweit eine Verarbeitung personenbezogener Daten zur Erfüllung einer rechtlichen Verpflichtung erforderlich ist, der unser Unternehmen unterliegt, dient Art. 6 Abs. 1 lit. c DSGVO als Rechtsgrundlage.

Für den Fall, dass lebenswichtige Interessen der betroffenen Person oder einer anderen natürlichen Person eine Verarbeitung personenbezogener Daten erforderlich machen, dient Art. 6 Abs. 1 lit. d DSGVO als Rechtsgrundlage.

Ist die Verarbeitung zur Wahrung eines berechtigten Interesses unseres Unternehmens oder eines Dritten erforderlich und überwiegen die Interessen, Grundrechte und Grundfreiheiten des Betroffenen das erstgenannte Interesse nicht, so dient Art. 6 Abs. 1 lit. f DSGVO als Rechtsgrundlage für die Verarbeitung.



3. Datenlöschung und Speicherdauer

Die personenbezogenen Daten der betroffenen Person werden gelöscht oder gesperrt, sobald der Zweck der Speicherung entfällt. Eine Speicherung kann darüber hinaus erfolgen, wenn dies durch den europäischen oder nationalen Gesetzgeber in unionsrechtlichen Verordnungen, Gesetzen oder sonstigen Vorschriften, denen der Verantwortliche unterliegt, vorgesehen wurde. Eine Sperrung oder Löschung der Daten erfolgt auch dann, wenn eine durch die genannten Normen vorgeschriebene Speicherfrist abläuft, es sei denn, dass eine Erforderlichkeit zur weiteren Speicherung der Daten für einen Vertragsabschluss oder eine Vertragserfüllung besteht.



III. Bereitstellung der Website und Erstellung von Logfiles

1. Beschreibung und Umfang der Datenverarbeitung

Bei jedem Aufruf unserer Internetseite erfasst unser System automatisiert Daten und Informationen vom Computersystem des aufrufenden Rechners.
Folgende Daten werden hierbei erhoben:

IP-Adresse des Nutzers (*),
Datum und Uhrzeit des Aufrufs,
Name der abgerufenen Datei,
Meldung über erfolgreichen Abruf (HTTP response code),
Übertragene Datenmenge,
Websites, von denen das System des Nutzers auf unsere Internetseite gelangt (Referrer URL),
Betriebssystem des Nutzers,
Browsertyp und verwendete Version
(*) Zur Erkennung von Angriffen speichert unser Hosting-Provider nicht anonymisierte IP-Adressen maximal sieben Tage. Danach werden sie unwiderruflich anonymisiert.

Die Daten werden ebenfalls in den Logfiles unseres Systems gespeichert.
Eine Speicherung dieser Daten zusammen mit anderen personenbezogenen Daten des Nutzers findet nicht statt.
Aus Datenschutzgründen enthalten die Logfiles nur anonymisierte IP-Adressen.



2. Rechtsgrundlage für die Datenverarbeitung

Rechtsgrundlage für die vorübergehende Speicherung der Daten und der Logfiles ist Art. 6 Abs. 1 lit. f DSGVO.



3. Zweck der Datenverarbeitung

Die vorübergehende Speicherung der IP-Adresse durch das System ist notwendig, um eine Auslieferung der Website an den Rechner des Nutzers zu ermöglichen. Hierfür muss die IP-Adresse des Nutzers für die Dauer der Sitzung gespeichert bleiben.

Die Speicherung in Logfiles erfolgt, um die Funktionsfähigkeit der Website sicherzustellen. Zudem dienen uns die Daten zur Optimierung der Website und zur Sicherstellung der Sicherheit unserer informationstechnischen Systeme. In diesen Zwecken liegt auch unser berechtigtes Interesse an der Datenverarbeitung nach Art. 6 Abs. 1 lit. f DSGVO.



4. Dauer der Speicherung

Die Daten in Logfiles werden nach sechs Wochen gelöscht.



5. Widerspruchs- und Beseitigungsmöglichkeit

Die Erfassung der Daten zur Bereitstellung der Website und die Speicherung der Daten in Logfiles ist für den Betrieb der Internetseite zwingend erforderlich. Es besteht folglich seitens des Nutzers keine Widerspruchsmöglichkeit.



IV. Verwendung von Cookies

Unsere Webseite verwendet kein Cookies. Bei Cookies handelt es sich um Textdateien, die im Internetbrowser bzw. vom Internetbrowser auf dem Computersystem des Nutzers gespeichert werden. Ruft ein Nutzer eine Website auf, so kann ein Cookie auf dem Betriebssystem des Nutzers gespeichert werden. Dieser Cookie enthält eine charakteristische Zeichenfolge, die eine eindeutige Identifizierung des Browsers beim erneuten Aufrufen der Website ermöglicht.



V. Rechte der betroffenen Person

Werden personenbezogene Daten von Ihnen verarbeitet, sind Sie Betroffener i.S.d. DSGVO und es stehen Ihnen folgende Rechte gegenüber dem Verantwortlichen zu:

Rechte auf Auskunft (Art. 15 DSGVO),
Rechte auf Berichtigung (Art. 16 DSGVO),
Rechte auf Löschung (Art. 17 DSGVO),
Rechte auf Einschränkung der Verarbeitung (Art. 18 DSGVO),
Recht auf Beschwerde bei einer Aufsichtsbehörde (Art. 77 DSGVO).
VI. Aktualisierung und Änderung dieser Datenschutzerklärung
Diese Datenschutzerklärung ist derzeit gültig ab 25. September 2019. Wenn sich unsere Website weiterentwickelt und Angebote verfügbar werden, oder wenn sich gesetzliche oder behördliche Anforderungen ändern, kann es notwendig sein, diese Datenschutzerklärung zu ändern. Die aktuelle Datenschutzerklärung kann jederzeit auf der Website eingesehen und ausgedruckt werden.